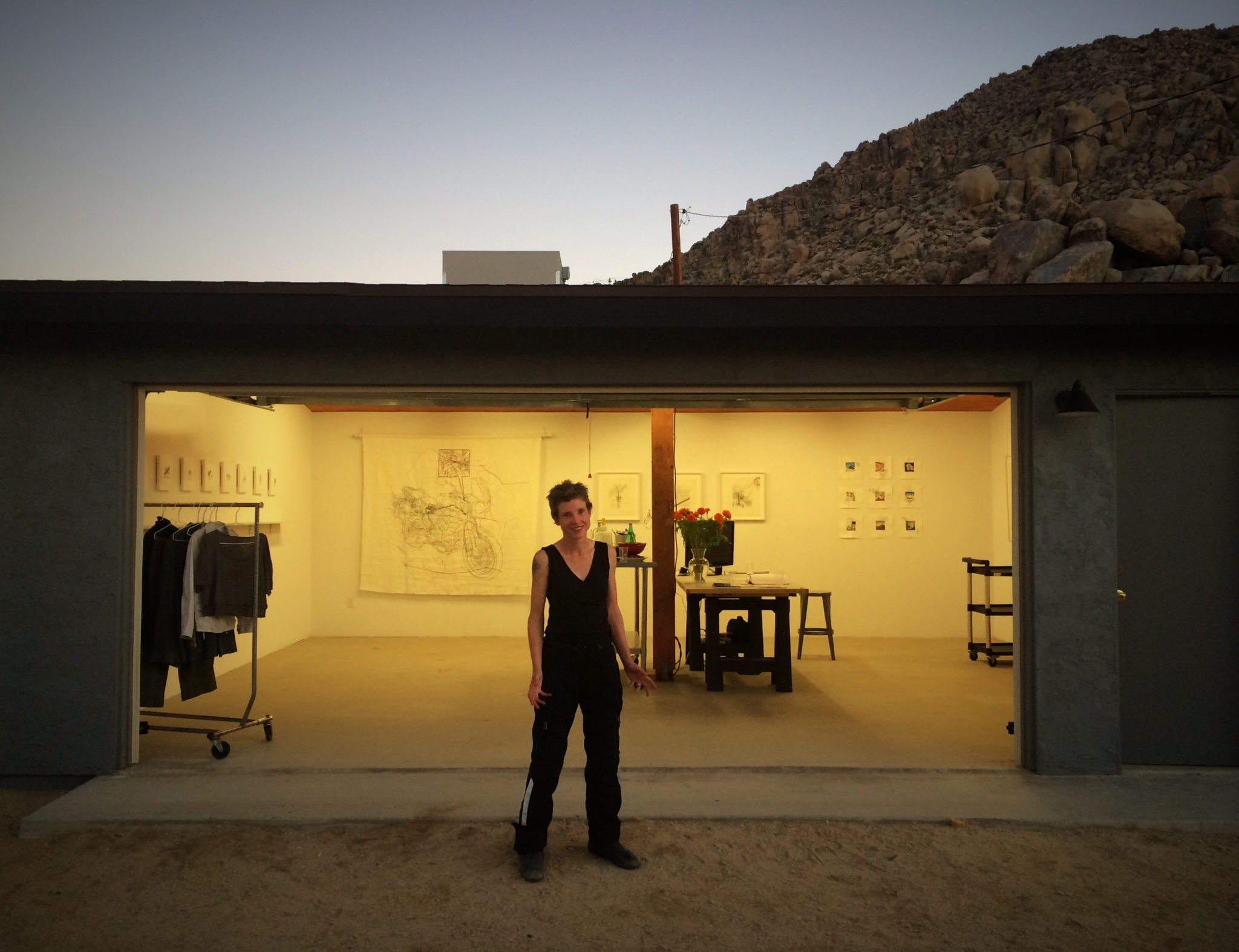 BoxoHOUSE. Joshua Tree, CA
BoxoHOUSE is where In Search of the Frightening and Beautiful began.
In late 2012, ISFB got its start through an invitation to participate in the BoxoHOUSE artist residency program in Joshua Tree, CA. This instigated the creation of a project that would fulfill two objectives: to reframe the act of traveling in such a way that giving something back to a place, community and culture becomes as important as taking from it; and to satisfy a personal desire to move through the world by motorbike.
In the spring of the following year, I quit my job and rode my motorcycle from Weehawken, New Jersey, to Joshua Tree, and back, leaving 18 hand-stitched artworks at sites around the United States for people to find and keep. Since 2013, ISFB has ventured over 38,000 miles through 14 countries, having left or given away 45 works of art throughout the Americas.
BoxoHOUSE
May 2013. Work in progress created during my month as Artist-in-Residence there, on view for an open house event.
BoxoHOUSE
Work in progress. Templates for embroideries inspired by the first ISFB motorcycle journey, a 10,000 mile loop around the United States during the spring and summer of 2013. The template in the foreground was used to lay out an embroidered piece called Triumph, later acquired by Cherryhurst House to fund the third ISFB journey to Argentina.
BoxoHOUSE Open House event. May 2013
Cherryhurst House. Houston, TX
Cherryhurst House is an artist residency program and exhibition space in Houston, TX.
In late 2014, Cherryhurst House acquired my piece Triumph, effectively sponsoring the third ISFB journey to Argentina. Following the 10-month, 13,000 mile ride, I was invited to participate in its residency program, resulting in an exhibition of paintings, embroideries and wall drawings (September 2016 - February 2017). Read more about this recent show here.
Cherryhurst House studio and artists' living space
Work in progress. April 2016
"Frame" going up at Cherryhurst House.
The shortcomings and brilliance of analog technology.. my wall drawings can only be made late at night.. but the projector's lens distortions make for some fantastic paintings...
Photo by Dallas McNamara
Cherryhurst House
Main gallery view (east). What Keeps You Up Takes You Down in the foreground. With Frame and Monsters [Houston, TX, USA].
Cherryhurst House
Main gallery view (west), with Clench in the foreground and Triumph in the background.
Installing ISFB at Cherryhurst House
Cherryhurst House Curator Barbara Levine
Yam Gallery. San Miguel de Allende, Guanajuato, Mexico.
Moto gear. With a slide show depicting artworks left around Mexico during the summer of 2014.
In 2014, Yam Gallery invited me to mount a small exhibition after completing the second ISFB journey, a month-long loop around Mexico, during the summer of that year. The show included second editions of pieces I'd left in the Mexican landscape that June.
Yam Gallery
Mounting works in the studio loft above the gallery.
Yam Gallery
Installation in progress.
California Polytechnic University. San Luis Obispo, CA.
November 2014.
With my Yamaha XT250 (aka "Guera") on the gallery floor, still shiny. This show featured slide projections of images taken during the first two years of ISFB from travels around the US and Mexico, with a soundtrack of road trip songs contributed by students. Second editions of pieces I left in the Mexican landscape, along with new embroidered compositions, were on view as well.
California Polytechnic University
The Guera in the foreground, with a series of watercolor paintings of images based on photographs taken during the first two years of ISFB.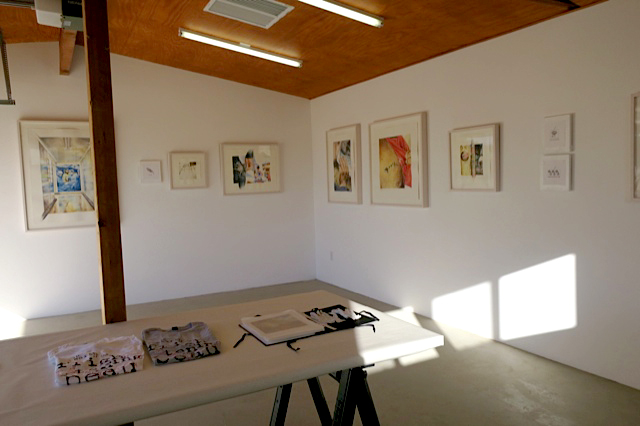 BoxoHOUSE. Full Circle exhibition, 2017.
May 2017. Celebrating the return of ISFB to its place of origin with an exhibition of paintings made at Cherryhurst House, ISFB t-shirts, and a new series of drawings.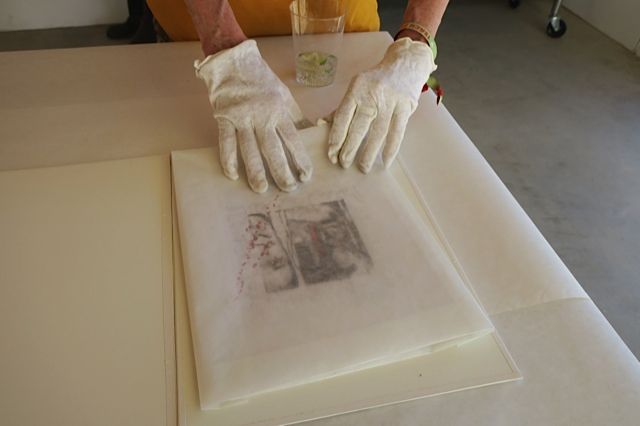 BoxoHOUSE
May 2017. Showing off drawings made for the Full Circle show. This is a new series I'm building into something big in my new little studio in Houston, TX. More on that soon..
Full Circle opening event at BoxoHOUSE. May 2017
With BoxoHOUSE Director Bernard Leibov
The In Search of the Frightening and Beautiful book.
In an edition of 100 printed February 2015. With an essay and images from the first two trips, around the U.S. and then Mexico, during 2013-14.
Plans for a second book are in the pipeline.
ISFB book launch poster
Announcing a book launch fundraiser and live music event that took place at the Palms Restaurant, in Wonder Valley, CA, February 2015. With performances by the Renderers, BATT, the Sibleys, the Reverend Screaming Fingers and Son of the Velvet Rat.
It seemed like the whole damned desert showed up that night. We managed to raise $1000 toward the trip to Argentina. The love in the air was palpable.
If you're interested in a poster, there are some left! Signed and editioned. $10 each plus shipping. Contact me and I'll send one your way.
The Renderers at the ISFB book launch and fundraiser.
February 2015. The Palms Restaurant, Wonder Valley, CA.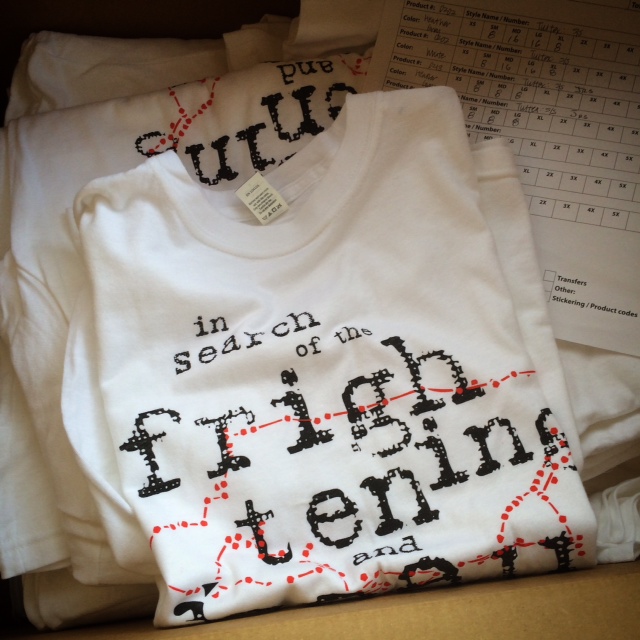 The ISFB t-shirt.
In grey and white, in a range of both women's and unisex sizes. Printed in 2015 as crowd funding campaign perks in the effort to raise money for the third leg of ISFB to Argentina.
There are still some available! $20 plus shipping. Contact me if you're interested in ordering. If there is enough interest, a second round of shirts in new sizes and colors may happen..
In Search of the Frightening & Beautiful 2015: To the Bottom of the World
A video created for the ISFB crowd funding campaign in February 2015. A great general overview of the project and its motivations.
Created/directed by Eva Soltes, with footage by Eva Soltes and Diane Best, photography by Natasha Peterson and Heather L Johnson, and music by Lucio Menegon.